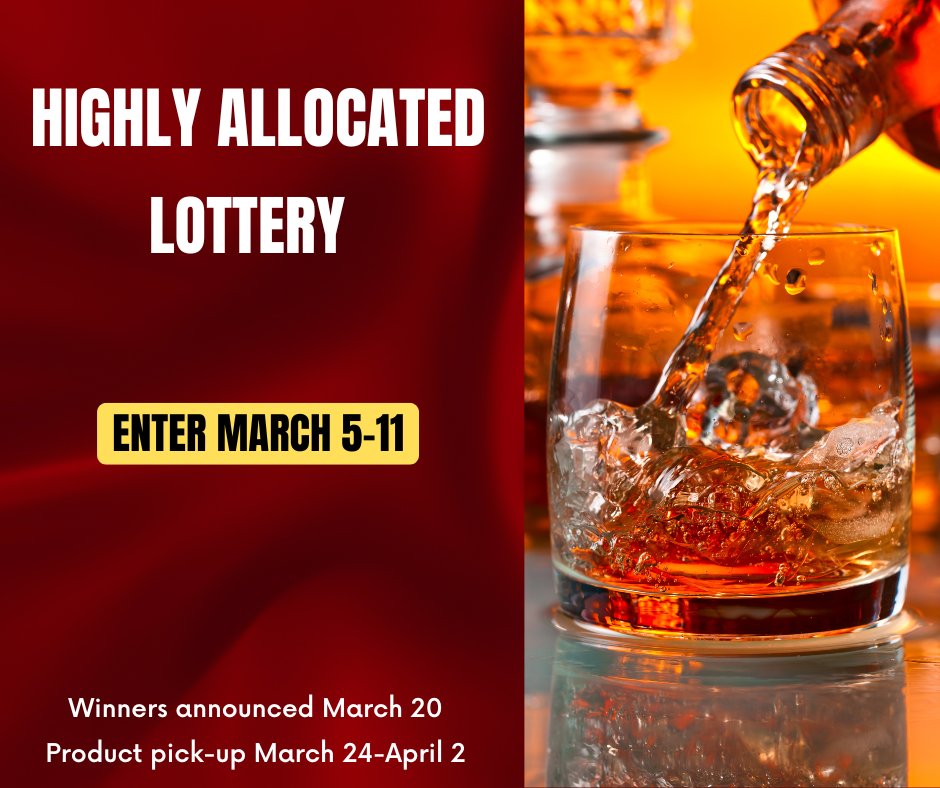 Montgomery County's Alcohol Beverage Services (ABS) has opened registration for its annual limited availability whiskey lotteries that provide opportunities to purchase highly sought spirits. The lotteries are free to enter, but have residency requirements. The deadline to register is 11:59 p.m. on Saturday, March 11.
After the lotteries close, a random drawing will be conducted. The winning numbers will be posted on the ABS website at noon on Monday, March 20. Winners will be able to purchase their bottle from a designated store from Friday, March 24, through Sunday, April 2.
ABS expects to release more than 1,100 bottles for purchase in the lotteries. Among the spirits that County residents will have an opportunity to purchase are a 2022 Double Eagle Very Rare, a Michter's 20-Year Old and several rare releases from the Willett Distillery. Maryland residents selected in the lottery will have an opportunity to purchase bottles from the First Edition Heaven Hill Heritage Collection, the Final Edition (fall 2022) Old Fitzgerald Bottled in Bond Collection and the Old Forester Birthday Bottles (2022 edition).
The first lottery will be open to Maryland residents 21 and over. The second lottery will be open only to County residents 21 and over. Each lottery includes a wide range of spirits bottles, with some overlap. County residents will be able to enter both the State and the County lotteries.
Each resident entering the lotteries will be able to select their top preferences from the list of bottles available. Bottle counts are listed on the registration forms. Details on how to enter the lottery, including an entry form, are available on the ABS website at
www.montgomerycountymd.gov/abs/lottery
.
A third lottery will be open to Montgomery County alcohol license holders who are authorized to sell spirits on their premises. The licensee lottery will run at the same time as the resident lotteries and will boost the availability of allocated items available by the glass. Licensees can enter at
www.montgomerycountymd.gov/abs/lottery
.
"We're pleased to have so many highly allocated products for this year's lottery. This increase in allocation is a reflection of the program's success and is a direct benefit to County residents," said ABS Retail Chief Kent Massie. "As always, the lotteries are designed to offer fair pricing and equitable access."
ABS is the alcohol wholesaler of beer, wine and spirits for Montgomery County. It operates 26 retail stores throughout the County. In addition, ABS manages alcohol licensing, enforcement and education for more than 1,000 businesses. Generating more than $35 million in net income annually, its profits are used to pay down County debt with a large portion deposited in the general fund to pay for resident services that would otherwise be funded by County tax dollars.