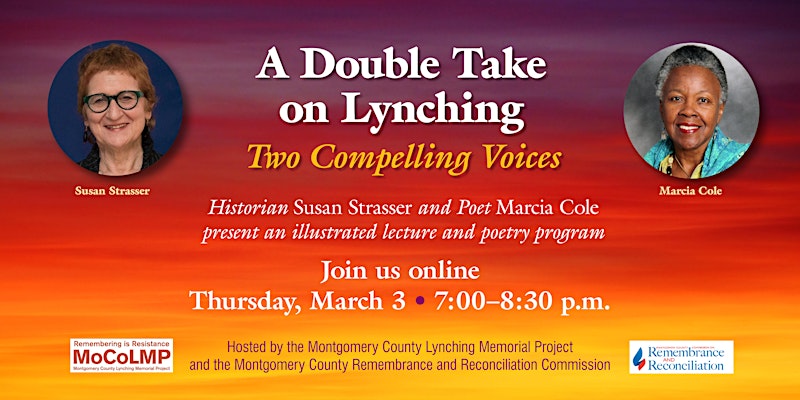 "A Double Take on Lynching: Two Compelling Voices," a free illustrated lecture and poetry program detailing the history of lynchings—including three in Montgomery County—will be presented virtually from 7-8:30 p.m. on Thursday, March 3. Historian Susan Strasser and poet Marcia Cole will be featured in the program on the Jim Crow system of segregated facilities and state-sanctioned repression that was held in place by terror, including thousands of lynchings.
The program is sponsored by the Montgomery County Lynching Memorial Project and the Montgomery County Remembrance and Reconciliation Commission.
To register to view the presentation, go to
https://www.eventbrite.com/e/a-double-take-on-lynching-two-compelling-voices-tickets-253712901117
. The Zoom link will be sent to those who register starting March 2.
Ms. Strasser is an award-winning historian and a distinguished lecturer for the Organization of American Historians. She is Richards Professor Emerita of American History at the University of Delaware. Her presentation will include about 60 images that show stark evidence of the history of lynchings and serve as a memorial to those who were murdered and tortured.
Ms. Cole is the author of
A Bitter Suite
, a series of poems on lynching written from a very personal perspective in response to a sobering picture seen in her college history textbook. These poems and others can be found in her recently published poetry collection
Light in Dark Places: History in Verse
. Her second collection is
Behold a Ball of Light: History in Verse
.
The Montgomery County Lynching Memorial Project (MoCoLMP), a grassroots organization formed in 2017, is a designated Community Remembrance Project of the Equal Justice Initiative in Montgomery, Ala.
The Montgomery project has organized soil collection ceremonies at the three known sites of lynchings in Montgomery County. Its mission includes educating the community about the history of lynching and racial terrorism in Montgomery County.
The project is now seeking to obtain historical markers at each lynching site, as well as to procure a County monument memorializing the lynchings of George Peck (Jan. 12, 1880), John Diggs-Dorsey (July 27, 1880) and Sidney Randolph (July 4, 1896).
In its efforts, MoCoLMP collaborates with the County Commission on Remembrance and Reconciliation, which was established by the County Council in 2019 to support the goal of bringing the County together to promote a better understanding of its history.