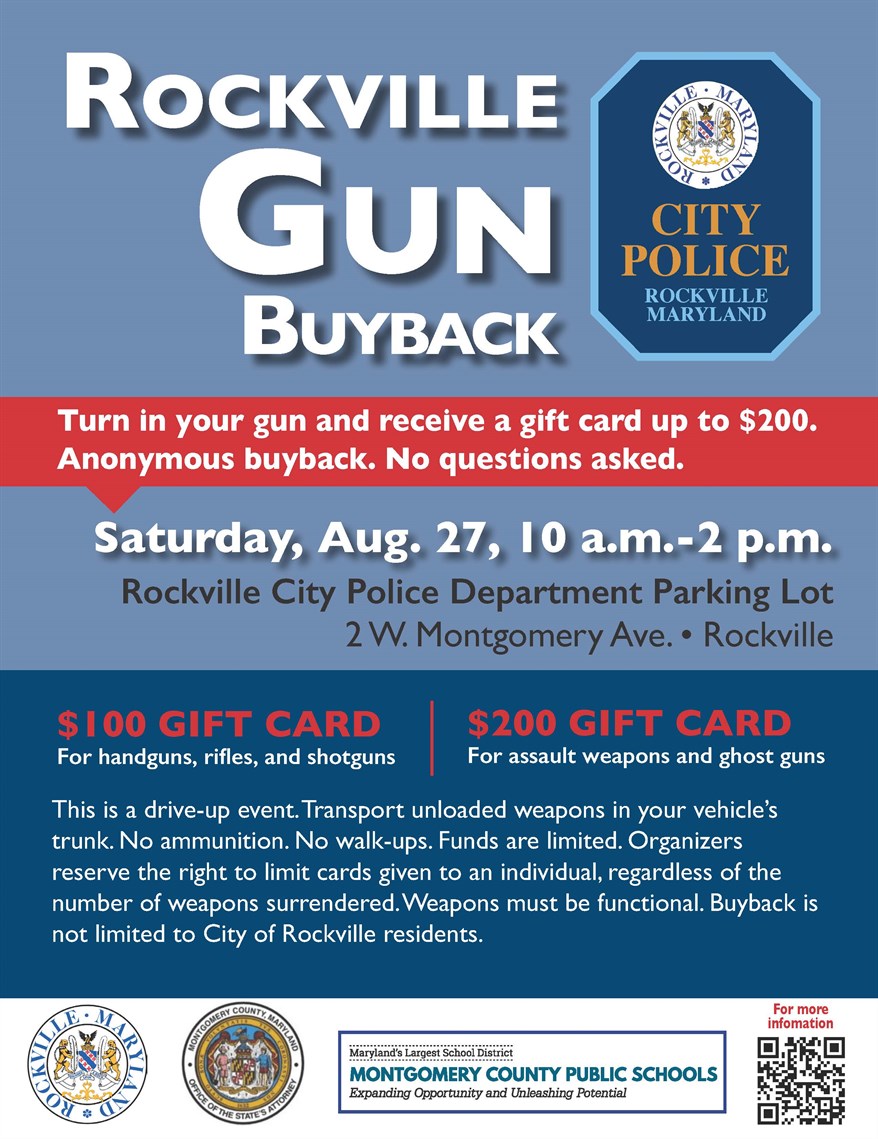 The Rockville City Police Department (RCPD), in partnership with the Montgomery County State's Attorneys Office and Montgomery County Public Schools, will host
a gun buyback event on from 10 a.m. to 2 p.m. on Saturday, Aug, 27, in the parking lot of Rockville Police Headquarters
. All firearms will be accepted with no identification needed and a no-questions-asked policy by law enforcement.
Rockville Police Headquarters is located at 2 West Montgomery Ave. in Downtown Rockville.
Community members will be able to voluntarily turn in their firearms and receive a $100 Visa gift card for functioning handguns, rifles and shotguns and $200 in Visa gift cards for functioning assault-style weapons and privately manufactured firearms (ghost guns).
RCPD will maintain the ultimate determination on the eligible firearms for gift card issuance.
Participants must remain in their vehicle at all times. Firearms must be unloaded and transported in the trunk. No ammunition in guns is allowed. No walk-ups will be allowed.
For the issuance of the gift card, weapons must be functional. The event organizers reserve the right to limit the number of gift cards given to an individual, regardless of the number of weapons surrendered.
An unserviceable firearm is a firearm that is incapable of discharging a shot by the action of an explosive and is incapable of being readily restored to a firing condition.
Non-functioning firearms and ammunition will be accepted with no exchange of compensation. Gift card quantities are limited and subject to availability.
Every gun turned in is one less gun that could be used in a serious crime, suicide, or domestic violence incident or accidentally discharged by a child.
Guns that are collected will be destroyed.