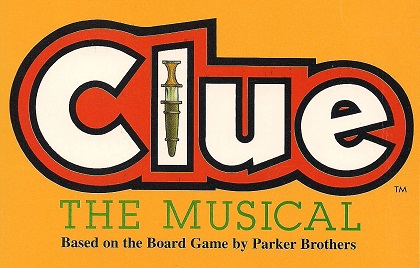 Clue the Musical
, based on a book by Peter DiPietro and with music by Galen Blum, Wayne Barker and Vinnie Martucci, will be performed Friday-Sunday, Aug. 19-21 at the Gaithersburg Arts Barn. The presentation is a partnership of The Montgomery Playhouse and the City of Gaithersburg.  
The Gaithersburg Arts Barn is located at 311 Kent Square Road in Gaithersburg. The show is recommended for ages 12 and older. Tickets are now on sale. 
The internationally popular game is now a fun-filled interactive musical that brings the world's best-known suspects to life and invites the audience to help solve the mystery of who killed Mr. Boddy, in what room and with what weapon. The audience receives forms to help deduce the solution from clues given throughout the fun-filled evening. Three audience members choose from cards representing the potential murderers, weapons and rooms. There are 216 possible solutions. Only one hard-nosed female detective is qualified to unravel the merry mayhem. Comic antics, witty lyrics and a beguiling score carry the investigation from room to room. Even after the culprit confesses, a surprise twist delights the audience. 
Performances will be at 8 p.m. on Friday and Saturday and at 2 p.m. on Sunday.
Tickets are $24 for adults, $20 for students ages 15-21, and $15 for youth 14 and under. 
Purchase tickets online here
. Tickets also can be purchased in person at the Arts Barn box office or by calling 301-258-6394.