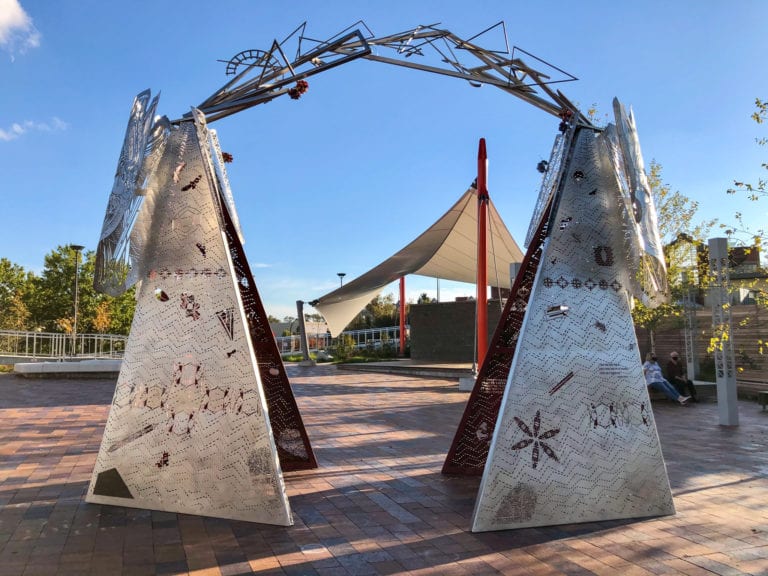 Meet Me at the Triangles, installed in Wheaton Town Square
The lead artists of the public art installation "Meet Me at the Triangles," located at Marian Fryer Plaza in Downtown Wheaton, will discuss the design process, from conception to completion, in a virtual event starting at 6:30 p.m. on Wednesday, April 28. The presentation of the work is part of the inaugural event for the "Curated Conversations" series presented by the Wheaton Arts and Entertainment District.
Meet Me at the Triangles was installed in October. It is the first major artwork commissioned by Montgomery County in many years. The sculpture, which offers a jewel box of references to Wheaton as it is now and as it is remembered, was created by artist Norie Sato collaborating with local artists Adrienne Moumin, Eric B. Ricks, Maritza Rivera and Achamyeleh Debela.
"Public art brings enormous value to cities aesthetically, culturally, socially, and economically. Meet Me at The Triangles is the first major artwork commissioned by Montgomery County in several years and now serves as a public gathering place for the community in the heart of Wheaton Town Square," said Suzan Jenkins, CEO of the Arts and Humanities Council of Montgomery County and the moderator for the discussion. "It is our hope that the unique creative placekeeping design of this piece, which incorporates elements of significance that recognize and honor the Wheaton community, will become a catalyst for more inclusive and community-centered public art throughout Maryland."
Meet Me at the Triangles was years in the making, according to a history of the project by Todd W. Bressi, who is known for his consulting with
Mural Arts Philadelphia
, leadership of the design journal
Places
and teaching at Penn and Pratt Institute.
"The artwork transcends pure urban design approaches to placemaking to incorporate place-specific meaning, absorbed from the artist's research into the history of Wheaton and engagement with the community around Wheaton Headquarters," wrote Mr. Bressi, who is an urban designer and public art consultant. "The name of the sculpture, 'Meet Me at the Triangles,' refers to the time when Wheaton Triangle was indeed a meeting place."
The discussion, taking place on Zoom, can be joined by registering at
http://bit.ly/wheaton-tri
. The presentation will be followed by a question and answer session.
Marian Fryer Plaza is the public town square that was constructed as part of the Wheaton Revitalization Project that was completed in 2020. The plaza is across Reedie Drive from the 14-story office building that was the focal point of the project.
The plaza is a public gathering spot with a fountain and an outdoor amphitheater and performance stage that will serve as a prime location for public events.