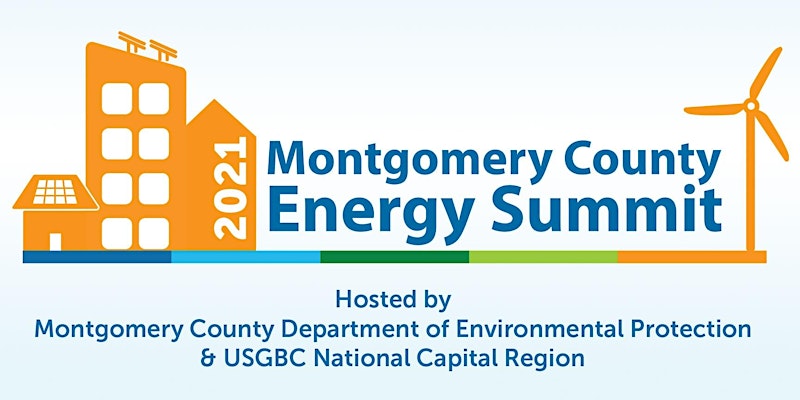 Registration is now open for the eighth annual Montgomery County Energy Summit, which will be held virtually due to the ongoing COVID-19 health crisis. The Summit is scheduled for Tuesday-Thursday, May 4-6. Event hours will be 9:30 a.m. to 4 p.m. on Tuesday and Wednesday and 9:30 a.m. to 3 p.m. on Thursday.
Early registration is $70 through April 10 for access to the full Summit pass, which includes the slate of education sessions and virtual networking events. After April 10, regular registration is $85. Single-day tickets are $45 for Day 1; $30 for Day 2 and Day 3. Scholarships will be made available for students and government professionals. Register at
https://tinyurl.com/MCES2021
.
The theme for 2021 is "Resiliency, from Building to Community," which supports the County's ambitious goal of zero carbon emissions by 2035. The Summit will explore strategies, technologies and case studies focused on enhancing the resiliency of the commercial, multifamily and residential built environment. This year's Summit is a forum for the community to discuss ways to adapt and become more resilient against changes to the regional and global climate.
The Summit will be co-hosted by Montgomery County's Department of Environmental Protection (DEP) and the US Green Building Council National Capital Region.
The Summit's target audience includes building owners; property managers; developers; energy contractors; residents interested in green building; and sustainability professionals working in Montgomery County and the larger DMV area. Last year's virtual event had about 330 attendees.
"This Energy Summit proves our community is committed to working together to adapt and become more resilient against changes to our regional and global climate," said DEP Director Adam Ortiz. "Together we must find ways to adapt to changing climate hazards in our buildings as we strive to reach the County's ambitious goal of zero carbon emissions by 2035. I look forward to an engaging and thought provoking 2021 Energy Summit."
The Summit will include breakout education sessions, a keynote address, topical networking salons and interactive brown bag lunches. All education sessions will be submitted for continuing education credits for Green Business Certification, Inc., and the American Institute of Architects.
To register and view the full schedule, visit the event's website at
www.MCEnergySummit.org
. Questions can be emailed to
energy@montgomerycountymd.gov
.