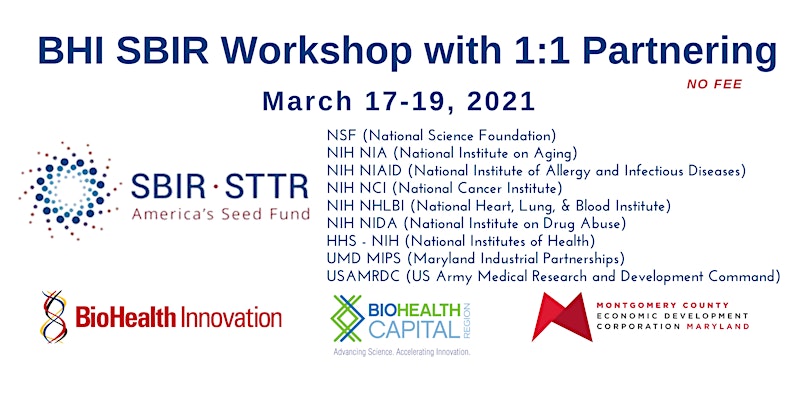 Technology and biology entrepreneurs who want to learn more about funding opportunities to help them commercialize their technology from major institutions and local government can participate in a free, three-day SBIR (Small Business Innovation Research} virtual workshop produced by BioHealth Innovation (BHI). The workshop, which will begin on Wednesday, March 17, and run through Friday, March 19, is co-sponsored by the Montgomery County Economic Development Corporation (MCEDC) and BHI. 
The workshop will include presentations, panel discussions and an opportunity to meet one-on-one with representatives of the participating organizations.
Among the organizations that will participate in the workshops are the National Science Foundation; the National Institutes of Health and its National Institute on Aging, the National Institute of Allergy and Infectious Diseases, the National Cancer Institute, the National Heart, Lung and Blood Institute and the National Institute on Drug Abuse; as well as Maryland Industrial Partnerships and U.S. Army Medical Research and Development Command.
One of the highlight sessions will be a panel discussion beginning at 10 a.m. on Thursday, March 18. The focus will be "Local Government Resources to Support Innovation." It will address resources available to help find space; incentivize potential angel investors; and support research, development and job growth. The scheduled panelists are Lynne Stein Benzion, director of economic development for MCEDC; Sharon Disque, economic development manager for the City of Gaithersburg; and Carla Merritt, senior business development representative for the Maryland Department of Commerce. Judy Costello, managing director of economic development for BioHealth Innovation, will be the moderator.
More information about the workshop, including how to register, is available at
https://tinyurl.com/2c4b663b
.