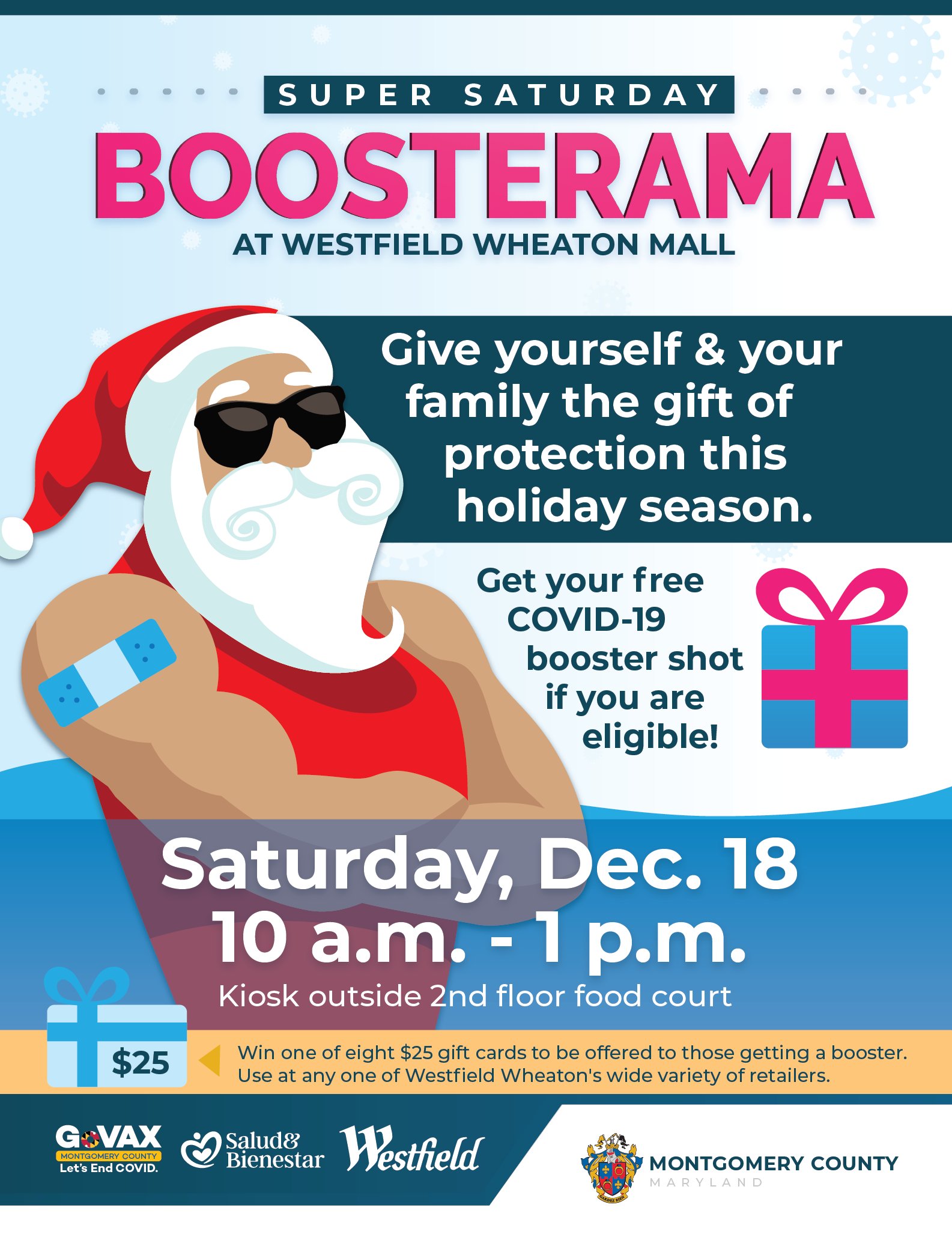 Montgomery County, in partnership with Por Nuestra Salud y Bienestar and Westfield Wheaton, will be hosting a "Super Saturday Boosterama" from 10 a.m. to 1 p.m. on Saturday, Dec. 18, to provide free COVID-19 booster vaccines for residents. First doses for adults also will be available. No appointment is needed.
Pediatric doses will not be administered at this event, which will be held at Westfield Wheaton Mall, outside of the second-floor food court. Eight individuals who receive their booster or first dose vaccination at the event will be chosen at random to receive $25 gift cards that can be used throughout Westfield Wheaton's wide variety of retailers.
"We know this time of year can be busy with holiday preparations," said County Executive Marc Elrich. "As you work through your shopping list, we hope you add one more thing: a COVID-19 booster if you are eligible or a first shot of a vaccine if you haven't received one. It's free, it's easy and it's the best gift you can give you and your family this holiday season."
The Boosterama is part of a broader effort by the County to maintain its strong collective immunity during a recent increase in cases. According to the Centers for Disease Control and Prevention, 81 percent of Montgomery County residents are fully vaccinated and 94 percent have received at least one dose. While vaccinations provide robust immunity against COVID-19, boosters have shown to create more sustained protection against the virus, especially as new variants, such as Omicron, begin circulating in the United States.
"Putting our guests' and families' safety first is our No. 1 priority this holiday season," said Stuart Amos, senior general manager of Westfield Wheaton. "And while we know this time of year can be busy, we are committed to maintaining key partnerships, like Boosterama, throughout the Montgomery County community that impact the health and well-being of all of our residents."
More than 230,000 booster doses have been given at County-operated vaccination clinics. While this represents more than 20 percent of all boosters given throughout the State, it means only about half of residents who are eligible for boosters have received one.
People who have gone at least six months since receiving their second Pfizer or Moderna shot or two months since receiving a Johnson & Johnson vaccine are eligible for a booster.
Vaccinations and booster shots also are widely available at locations throughout the community. To make an appointment for a booster shot or to find other locations that are providing vaccines, go to
GoVaxMoco.com
.
For more information about Por Nuestra Salud Y Bienestar, visit
https://www.lhiinfo.org/saludybienestar/
.