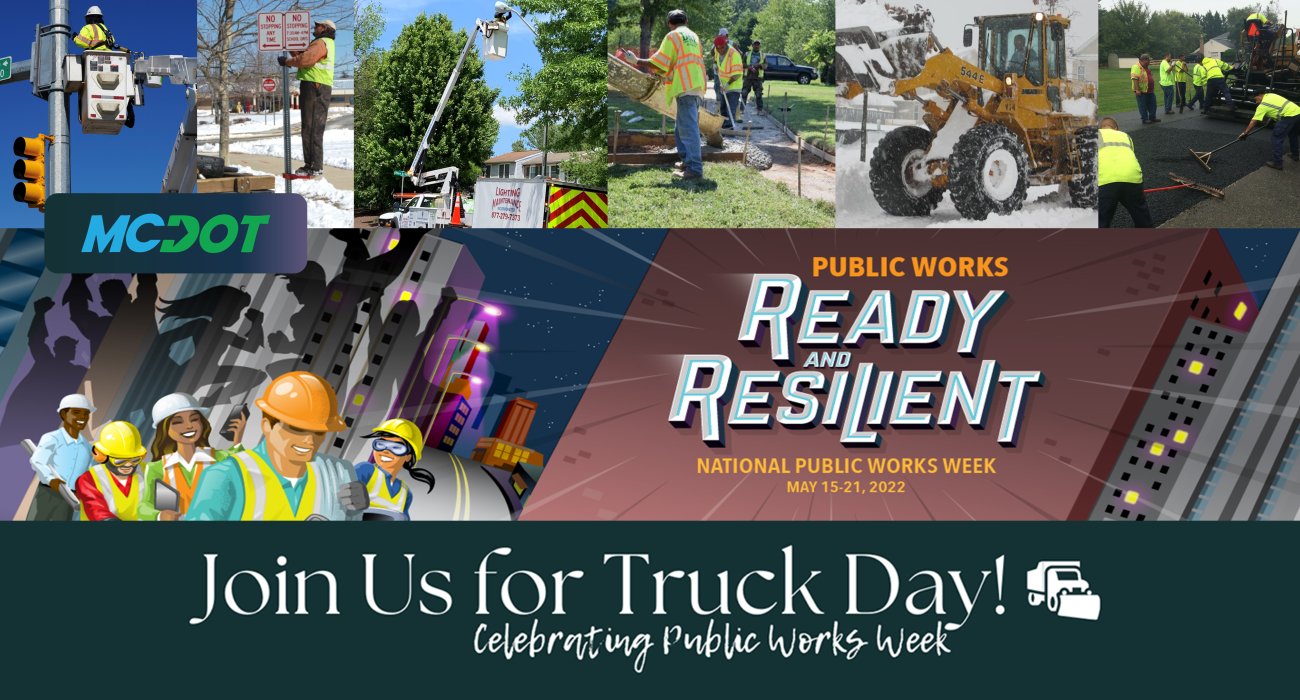 The Montgomery County Department of Transportation's (MCDOTs) Division of Highway Services will conclude its celebration of national "Public Works Week" with a free, family-friendly "Truck Day" on Saturday, May 21, that will allow residents to tour and sit in County vehicles.
Public Works Week is a national week in May to honor essential workers. In recognition of these County employees, a social media campaign has been underway highlighting the essential work they do.
Truck Day
will take place from 10 a.m.-3 p.m. at the MCDOT Gaithersburg Depot, which is located at 17000 Crabbs Branch Way in Gaithersburg.
The
American Public Works Association
has announced "Ready & Resilient" as the theme for its 2022 National Public Works Week campaign. The theme emphasizes that public works employees are always ready to serve their communities and are resilient despite encountering challenges.
"Public Works employees provide vital services for our residents," said County Executive Marc Elrich. "These essential workers keep residents safe and are always ready to respond. I am very thankful for the amazing job these men and women do—keeping our infrastructure safe through storm and flood response and right-of-way management. They help make Montgomery County a great place to live."
MCDOT Highway Services employees provide and sustain essential services that improve the County's quality of life. Those services include clearing trees in roadways, snow removal, flood response, storm management, street cleaning and leafing programs.
"Residents rely on our Highway Services staff more than they are probably aware of," said MCDOT Director Chris Conklin. "They are the first boots on the ground when issues arise, and they are an incredibly efficient group of problem solvers. Residents typically don't see them fixing issues at all hours, in all types of weather conditions; but they do. And they do an incredible job."