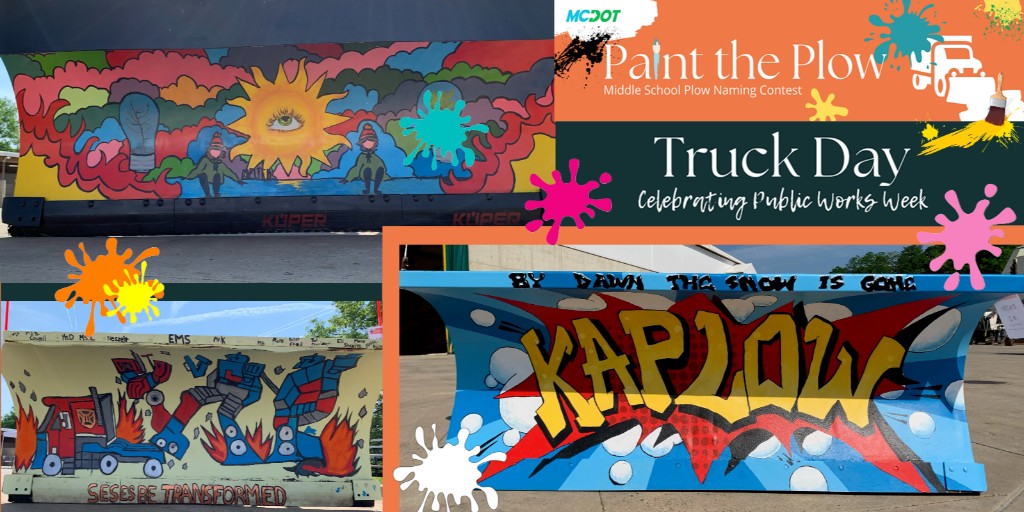 John Poole Middle School in Poolesville was selected as the winner of the first-ever Montgomery County Department of Transportation (MCDOT) '
Paint the Plow
' middle school snowplow naming contest. The winning design had a comic theme and featured the words "Kaplow."
Teams from 14 Montgomery County Public Schools (MCPS) middle schools participated in the contest. Snowplows and paint supplies were delivered by MCDOT to each school and the student teams had four days to name and decorate their snowplows.
A team from Kingsview Middle School in Germantown was selected as the second-place winner with its decorated snowplow "Melted." A team from Eastern Middle School of Silver Spring was named the third-place winner for its decorated plow "Be Transformed."
The decorated plows will be part of the MCDOT fleet that will be clearing snow from streets this winter.
The winners were named as MCDOT concluded its events to celebrate "Public Works Week" to honor essential workers. During the special week, MCDOT recognized the employees of its Division of Highway Services with a social media campaign and the Paint the Plow contest. The entries to the contest were showcased at the MCDOT family 'Truck Day' event held on Saturday, May 21. Attendees were asked to vote for their favorite snowplow name and design.
The winners selected were:
First place and awarded $300: John Poole Middle School for its decorated snowplow named "Kaplow."
Second place and awarded $200: Kingsview Middle School for its decorated snowplow named "Melted."
Third place and awarded $100: Eastern Middle School for its decorated snowplow named "Be Transformed."
"This fun event is a great way to celebrate National Public Works Week and to recognize the dedication and hard work that our employees do to keep the County's infrastructure functional and safe," said County Executive Marc Elrich." We are pleased to partner with MCPS and to see the creativity and talent from our students and teachers."
The contest was a unique and fun way to introduce students to some of the work done by MCDOT.
"This contest was a fun way to involve our local students in Public Works Week and it was fun for everyone to see the creative names and designs they came up with," said MCDOT Director Chris Conklin. "Residents should look out for these decorated snowplows when we are clearing snow off County roadways this winter."
Pictures of the painted plows can be viewed on MCDOT social media platforms listed below.
For more information on MCDOT programs and services visit
montgomerycountymd.gov/mcdot
, follow @MCDOTNow on
Twitter
,
Facebook
and
Instagram
and
subscribe
to MCDOT's "Go Montgomery!" newsletter.