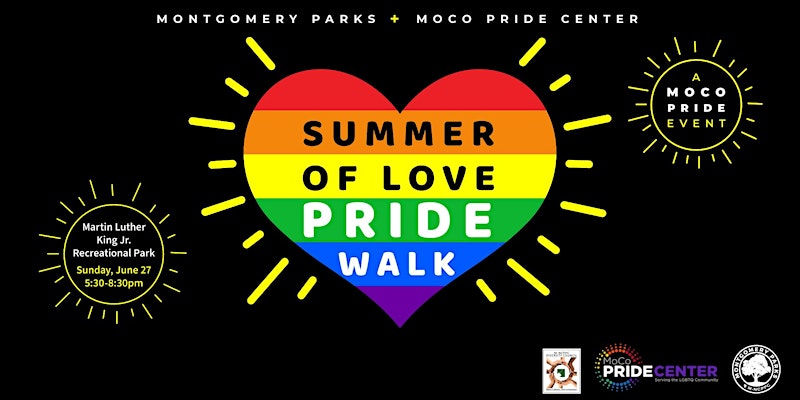 June as "Pride Month" will be celebrated by Montgomery Parks and the Moco Pride Center with the free "Summer of Love PRIDE Walk" at Martin Luther King, Jr. Recreational Park in Silver Spring from 4:30 to 8:30 p.m.. on Sunday, June 27.
The park is located at 1120 Jackson Rd. in Silver Spring.
The celebration will include family friendly evening walks on the 0.8-mile paved Pride-themed trail that celebrates the LGBTQ+ community of Montgomery County. Along the trail there will be multiple chances to take fun photos at the colorful butterfly field and at other areas.
Participants should bring their own picnic blanket and chairs to enjoy the PRIDE picnic area. DJ Confetti the First will be onsite to provide music and food can be purchased from the Pop Up Poutine & Patisserie food truck and the Kona Ice truck. Participants also can bring their own food and drinks to the PRIDE picnic area.
The event is free, but registration is required through
Eventbrite.
When registering, be sure to include the total number of guests in the party and provide a contact email for at least one person.
There is plenty of parking onsite.
In addition, a shuttle from the Glenmont Metro Station (Red Line) will be provided by the MoCo Pride Center and will run every 30 minutes. The first pickup from the Glenmont Metro Station will be at 4:30 p.m. and the last return pickup will leave at 8:30 p.m. from Martin Luther King, Jr. Recreational Park. Look for the MoCo Pride Center logo on the shuttle bus.
Guidelines for the event include:
Children under age 15 must be accompanied by a parent or guardian for the entirety of the event.
Dogs are permitted as long as they are leashed, and owners are required to pick up after their dogs and dispose of any waste in trash cans on-site.
Arrive at the Check-In table during your designated start time for the Pride Walk on the trail. This will prevent overcrowding on the trail.
Additional information about the event can be found at
https://www.montgomeryparks.org/special-events/summer-of-love-pride-walk/.