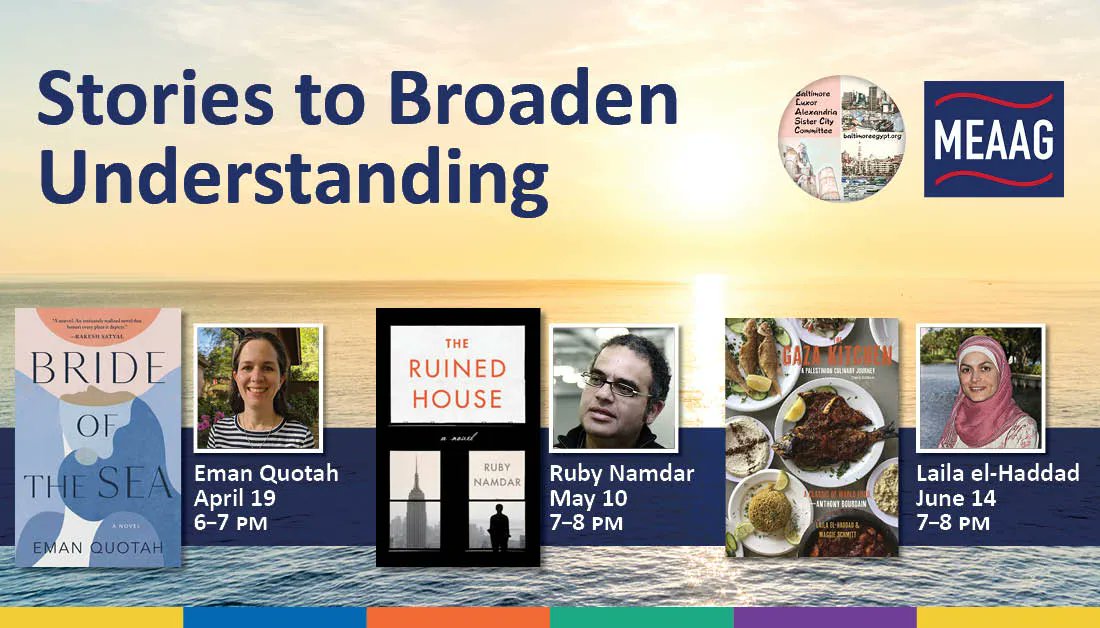 A series of free virtual author talks from April to June will be sponsored by Montgomery County Public Libraries (MCPL) in partnership with the County's Office of Community Partnerships' Middle Eastern American Advisory Group and the Baltimore Luxor Alexandria Sister City Committee. Upcoming featured authors will be Eman Quotah on Tuesday, April 19; Ruby Namdar on Tuesday, May 10; and Laila el-Haddad on Tuesday, June 14.
"We are delighted to work with our partners and bring these incredibly accomplished authors to MCPL to share their stories with Montgomery County residents," said MCPL Director Anita Vassallo. "This is a unique opportunity to learn first-hand about their work and their creative processes."
Information about the participating authors, their works, and dates and times of the programs is listed below. Registration is required to view each program.
April 19, 6-7 p.m. Author Eman Quotah. Born in Saudi Arabia, Ms. Quotah will discuss her work, "Bride of the Sea," named the best debut novel of 2021 by Booklist. The Washington Post described it as a "nuanced view of the Saudi kingdom through a cast of compelling characters and a sweeping plot that spans continents and decades." Register at https://mcpl.libnet.info/event/6347985.
May 10, 7-8 p.m. Author Ruby Namdar. Born and raised in Jerusalem to a family of Iranian-Jewish heritage, Mr. Namdar will discuss his book, "The Ruined House," which won the 2015 Sapir Prize, Israel's most prestigious literary prize. The book was described by Newsweek as a "wildly original novel . . . unsettling and beautifully written." Register at https://mcpl.libnet.info/event/6348066.
June 14, 7-8 p.m. Author Laila el-Haddad. A Howard County author, social activist, policy analyst and journalist, Ms. el-Haddad will discuss her work, "The Gaza Kitchen: A Palestinian Culinary Journey," which received the "Best Arab Cuisine Book." With photographs by Maddie Schmitt, it recounts stories about cooking, farming and family. Register at https://mcpl.libnet.info/event/6348097.
For more information about the series, contact Clotilde Puértolas at
Clotilde.puertolas@montgomerycountymd.gov