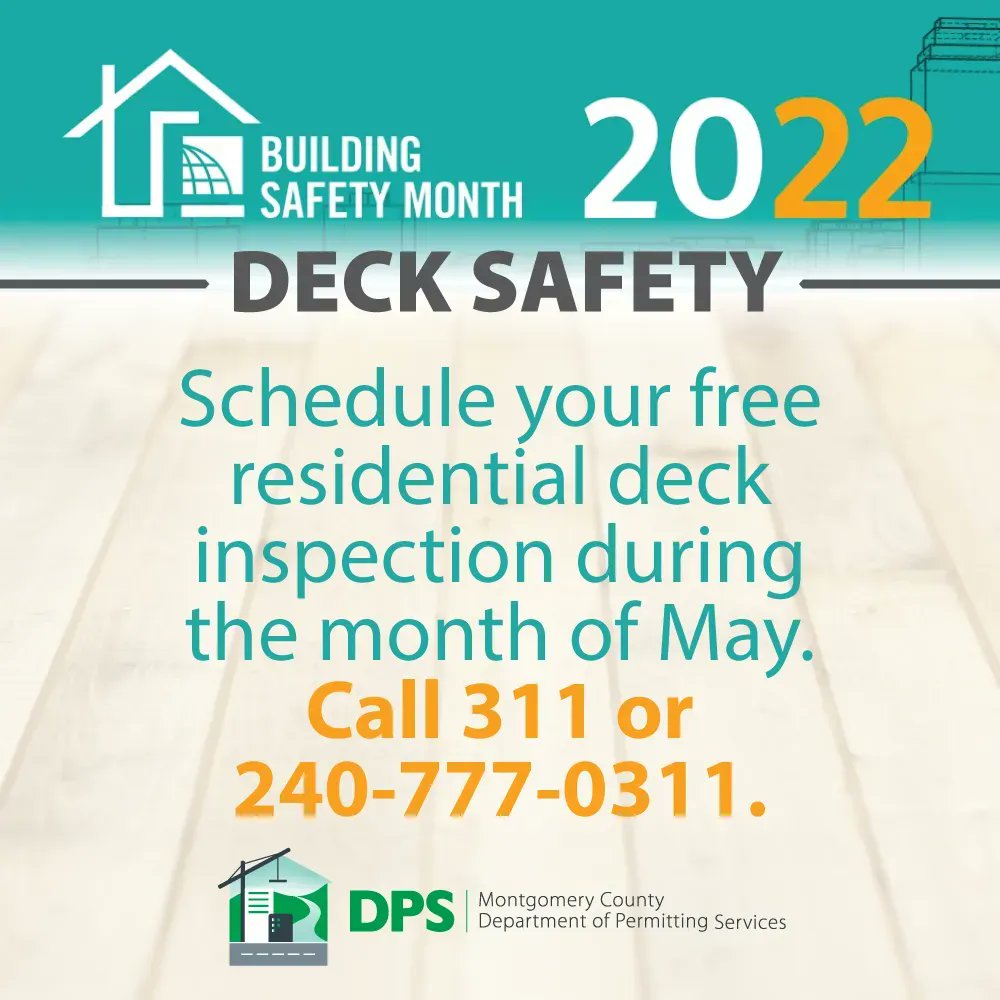 The
Montgomery County Department of Permitting Services (DPS)
will offer homeowners free residential deck inspections as part of its annual celebration of May as "Building Safety Month."
This year's 42nd annual Building Safety Month campaign, "Safety for All: Building Codes in Action," raises awareness about the importance of building codes in ensuring safety where people live, work and learn. Homes and buildings built in compliance with building safety codes, and the officials who enforce the codes, are essential to help communities become affordable, resilient and energy and water efficient.
"Our free, residential deck inspection program is designed to keep Montgomery County residents informed about deck maintenance and to help them and their guests stay safe," said County Executive Marc Elrich. "These appointments take less than 15 minutes. We encourage County residents to take advantage of this opportunity and schedule a deck maintenance inspection so they can learn firsthand from our inspectors about the condition of their deck."
Residents should call the County's central call system at MC311 or 240-777-0311 to learn more about the deck inspection program and to schedule an inspection. Residents also can schedule an inspection online by visiting the DPS website and submitting a
service request
. The requests may not be anonymous. In the description section of the online form, residents should note they are requesting a deck maintenance inspection and include the property address and contact information at the top of the form.
"Once on site, an inspector will check the support structure of the deck, ledger attachment and the overall condition of the structure," said Jim Sackett, DPS residential inspections manager. "Since the program began in 2009, more than 1,400 decks have been inspected as part of this program."
The County does not provide free deck inspections in the cities of Gaithersburg and Rockville because the municipalities have their own permitting departments and protocols.
This year's Building Safety Month weekly campaign themes will include:
May 1-8: Planning for a Safe and Sustainable Tomorrow
May 9-15: Exploring Careers in Building Safety
May 16-22: Understanding the Four Phases of Emergency Management
May 23-31: Creating a Safe and Abundant Water Supply
County Executive Elrich and the County Council are scheduled to issue a joint Building Safety Month proclamation on Tuesday, May 10.
Learn more about Building Safety Month at
www.buildingsafetymonth.org
and join the conversation on social media using #MoCoDPS and #BuildingSafety365.