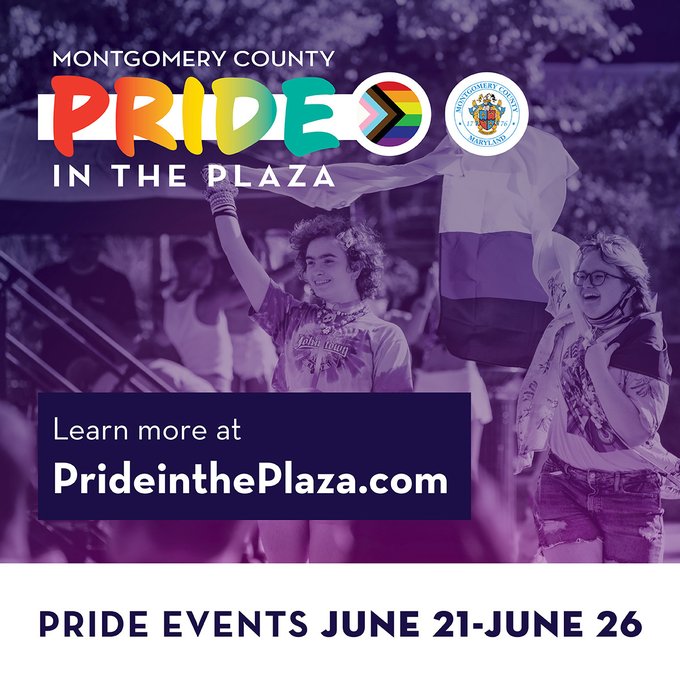 Montgomery County's celebration of June as Pride Month continues with special events of varying types. The events will include "Pride on the Field" in White Oak on Friday, June 24, and Pride in the Plaza activities on Sunday, June 26, in Silver Spring.
Friday, June 24: Pride on the Field: An LGBTQ+ Field Day.

Montgomery County Recreation Department and Unmatched Athlete will partner for a day of outdoor games and sports from noon-4:30 p.m. on Friday, June 24, at the White Oak Recreation Center. No matter your athletic ability, there will be something fun for everybody. Following Pride on the Field, there will be activities at the recreation center's new LGBTQ+ Safe Zone from 7-10 p.m.
Register here.
Friday, June 24: Pride in the Park: Movie Night

Bring a blanket or lawn chair for a cozy outdoor screening of the film Saturday Church in Jesup Blair Park at 7 p.m. on Friday, June 24. Bring your own food and drink or purchase refreshments from Silver Branch Brewing and an on-site food vendor. The movie will begin at sundown. Saturday Church takes the viewer through the story of 14-year-old Ulysses, a boy who is struggling with his gender identity and faith. Ulysses uses music and fantasy to navigate his life in the inner city, meeting many new friends along the way that help him discover his freedom of expression and passions. No tickets are required for this event. Presented by Montgomery Parks. More information
here
.
Saturday, June 25: MOCO Pride Youth Picnic

MoCo Pride Youth, the LGBTQ+ student advocacy group of Montgomery County Public Schools, has organized an afternoon of food and socializing for LGBTQ+ youth in Downtown Silver Spring's Woodside Urban Park from noon-3 p.m. on Saturday, June 25. All LGBTQ+ teens are welcome to attend, regardless of whether they are MCPS students.
Get free tickets
.
Saturday, June 25: Pride in the Park: Youth Open Mic

Do you have a notebook full of poetry you want to share with the world, or a song that needs an audience? All LGBTQ+ youth and young adults are invited by MoCo Reconnect to spend some time behind the microphone sharing their poetry, stories, songs, and any other creative musings from 3-5 p.m. at Woodside Urban Park on Saturday, June 25. Woodside Urban Park is located at 8800 Georgia Ave. in Silver Spring. More information
here.
SUNDAY, June 26: Pride in the Plaza Festival!

Come out and show your pride in Veterans Plaza in Downtown Silver Spring for a fun, all-day, outdoor festival celebrating LGBTQ+ community, health, well-being and joy. The festival is free.
Get tickets now
.
Festival highlights will include:
Local LGBTQ+ artists, businesses and supportive nonprofits.
Free HIV testing.
Drag Queen Story Hour: 12:30-1:30 p.m.
LGBTQI Pride Show & Drag Duels Finale: 1:30-4:30 p.m.
Pride in the Plaza Mini-Ball: 5-8 p.m