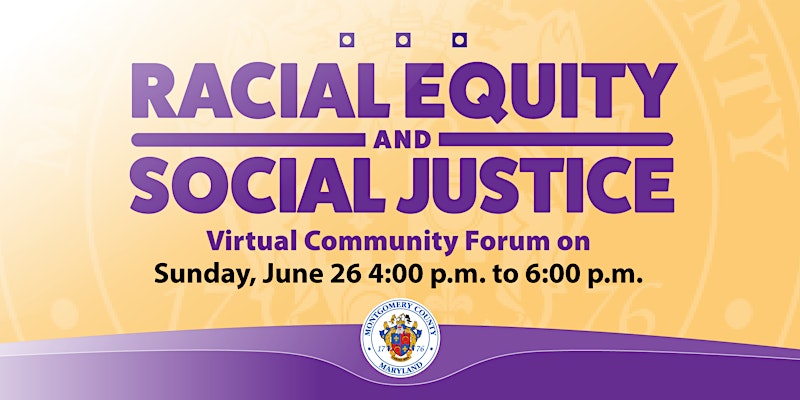 The
Montgomery County Racial Equity and Social Justice Advisory Committee (RESJAC)
will host a virtual community forum from 4-6 p.m. on Sunday, June 26. The forum, which will have opening remarks from County Executive Marc Elrich and County Councilmember Nancy Navarro, aims to bring together the community and County leaders to learn more about topics including food insecurity, health justice, housing, and reparations.
The County Government officials and community leaders participating in the forum will engage in a conversation about racial equity and social justice.
Scheduled speakers for the forum include Zola Shaw, RESJAC chair, and Shane Lloyd, RESJAC vice chair.
A special session on reparations will be led by William "Sandy" Darity and A. Kirsten Mullen.
The forum also will include breakouts sessions. The scheduled sessions are:
Health Justice: Panel will feature Michelle LaRue of CASA, Beatrice Miller of the Luminis Health Doctors Community Medical Center, and Sanjana Quasem of the Asian American Health Initiative.
Food Insecurity: Panel will feature Grace Rivera-Oven of the Upcounty Consolidation Hub and Jackie DeCarlo of the Manna Food Center.
Housing: Featuring Alex Vazquez of CASA.
Click here for event information and registration
.