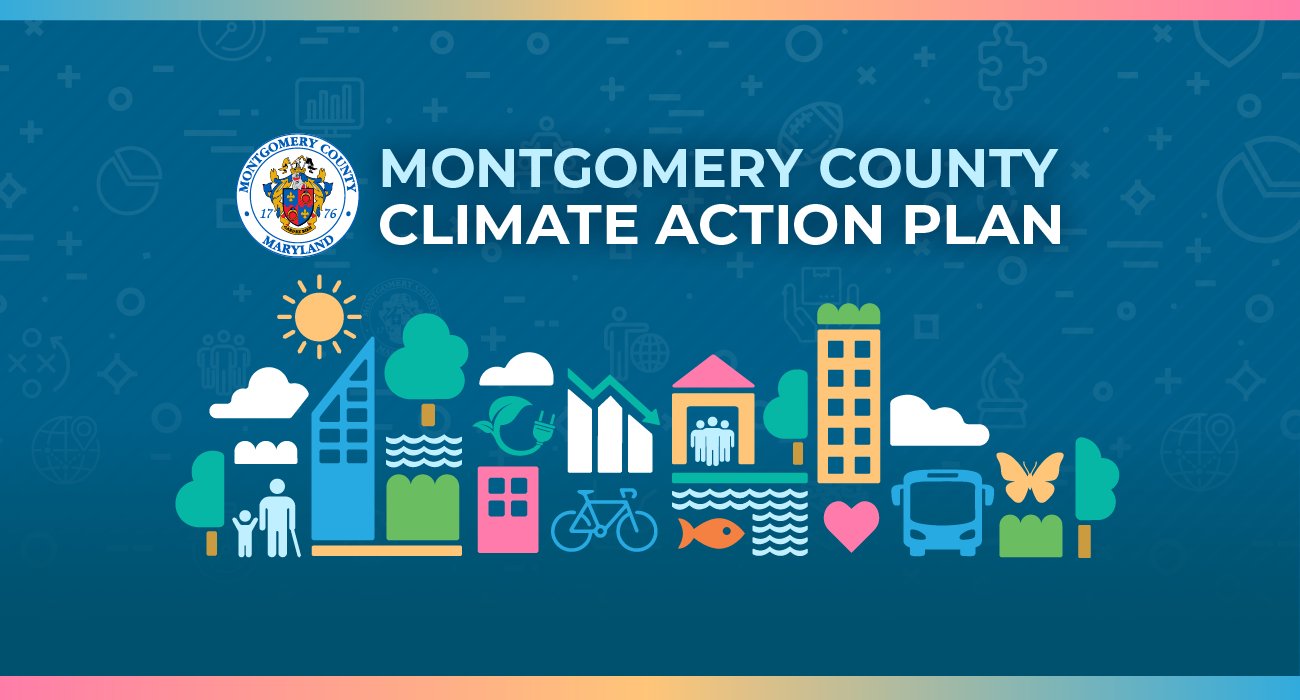 Montgomery County has released the third-quarter updates of its Fiscal Year 2022 Climate Work Plan that highlights the progress to implement actions in the County's Climate Action Plan. The County has continued to make progress on more than 70 actions to help reach the goals of the plan.
The Climate Action Plan (CAP), unveiled in 2021, is a strategic plan to reduce community-wide greenhouse gas (GHG) emissions by 80 percent by 2027 and 100 percent by 2035. The plan also seeks to reduce climate-related risks to the County's residents, businesses and the built and natural environment. The annual climate work plan describes the actions that the County is making progress on in the near term in support of the CAP.
"As showcased in the Quarter 3 updates, Montgomery County continues to make progress toward meeting our climate goals," said County Executive Marc Elrich. "Addressing climate change supports and builds on the County's efforts to improve quality-of-life and economic vitality in our community. I am proud of Montgomery County's leadership on climate."
Adriana Hochberg, the County's climate change officer and acting director of the Department of Environmental Protection, said the County is moving swiftly to address recommendations made in the CAP.
"The Quarter 3 progress updates are a testament to the hard work of staff across County government, our residents, and businesses to reduce greenhouse gas emissions and build resilience to a changing climate," said Ms. Hochberg. "Implementing the Climate Action Plan is continuing to produce results that provide tangible benefits to residents."
Highlights of Quarter 3 progress include:
Clean Energy: The Montgomery County Green Bank launched its low- and moderate-income solar program for homeowners earning under $97,500 in March 2022 in conjunction with the Solar Co-Op.
Buildings: The Department of Environmental Protection (DEP) is involved in the Rocky Mountain Institute's 2022 electrify cohort in partnership with the City of Takoma Park, Habitat for Humanity Metro Maryland and the County Green Bank to design a building electrification program.
Transportation: Montgomery County Public Schools (MCPS) received 24 electric school buses.
Transportation: The County Department of Transportation (MCDOT) and DEP launched the EV Purchasing Co-op Pilot and asked residents and local businesses to "make the pledge" to purchase an EV for their next vehicle.
Transportation: MCDOT completed the MD355 Crossing Project, with an underpass providing a safe, efficient crossing for pedestrians and cyclists between the National Institutes of Health and Naval Support Activity Bethesda/Walter Reed, and directly connecting with the Metro station.
Carbon Sequestration: DEP received $1.5 million in Federal grants through the FY22 Omnibus Appropriations bill for tree planting and green infrastructure with a focus on underrepresented communities.
Carbon Sequestration: The Maryland-National Capital Park and Planning Commission acquired 472.78 acres of property to create the new Broad Run Conservation Park. Public ownership of this property will ensure long-term preservation and conservation of land that includes: 325 acres of forest, significant areas of contiguous forest and forest interior habitat, and 1.5 miles of Broad Run mainstream and headwater tributaries.
Climate Adaptation: The Department of General Services has completed the design and construction phases of the Scotland Recreation Center Resilience Hub and it is anticipated to be operational in the summer of 2022.
Governance: The Association of Climate Change Officers (ACCO) conducted two training programs for about 50 departmental "climate ambassadors," focusing on the science and impacts of climate change.
Governance: County Bill 46-21 to expand the scope of the Commercial Property Assessed Clean Energy (C-PACE) financing program was enacted on March 15 and will become effective on June 27.
Public Engagement, Partnerships, and Education: The Latino Health Initiative of the Department of Health and Human Services conducted six virtual physical activity sessions ("Charlemos con Zumba" or "Let's Chat with Zumba") in Spanish, between February and March. Zumba sessions included a presentation and discussion with participants on various climate-related topics.
Public Engagement, Partnerships, and Education: MCPS hosted the Youth Climate Summit on March 5. It was an event organized, planned, and led by students.
To view the Quarter 3 FY22 Climate Work Plan progress report, visit
https://www.montgomerycountymd.gov/green/Resources/Files/climate/fy22-climate-work-plan-q3-updates.pdf
For more information about the Climate Action Plan, visit
https://www.montgomerycountymd.gov/green/climate/index.html
.