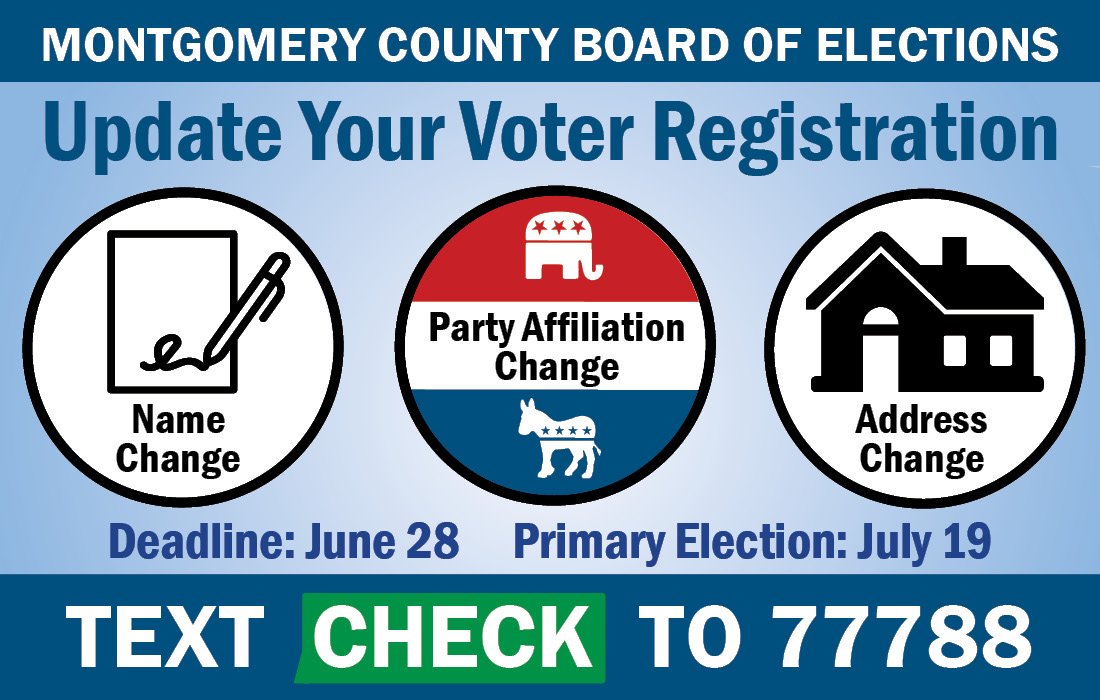 Montgomery County residents who want to vote in the 2022 Gubernatorial primary election on July 19 need to complete and submit their voter registration application no later than 9 p.m. on Tuesday, June 28. Voters also must have their correct address on file with Board of Elections and must be registered with the political party whose primary they want to participate if they are to vote in the primary.
Maryland holds closed party primaries. Only registered voters affiliated with the Democratic or Republican parties receive a ballot for that party. Unaffiliated voters will vote only for candidates for the Board of Education.
Registering to vote requires that a person is a U.S. citizen, lives in Montgomery County and is or will be at least 18 years of age on or before Nov. 8.
Registered voters can review/update their voter record by texting CHECK to 77788, going to
https://voterservices.elections.maryland.gov/VoterSearch
or by calling 240-777-8500 to verify their voter registration using the automated phone system or for assistance.
Individuals who are not registered, but who have a valid Maryland driver's license, permit or MVA ID, can register by texting VOTE to 77788 or at
https://voterservices.elections.maryland.gov/OnlineVoterRegistration/InstructionsStep1
.
Individuals without a Maryland driver's license, permit or MVA ID can visit
www.777vote.org
to download a voter registration application to mail to the Board of Elections or can call 240-777- 8500 for assistance.
For more information on voter registration, visit
www.777vote.org
, the Maryland State Board of Elections' website at
http://elections.maryland.gov
or follow the Montgomery County Board of Elections on Facebook or Twitter.