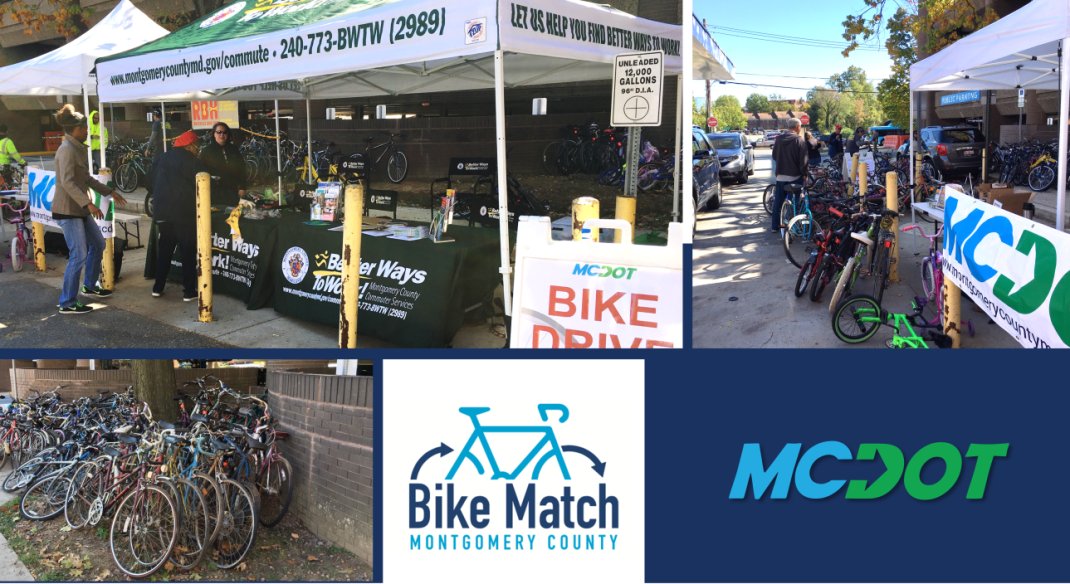 A bicycle donation event sponsored by the Montgomery County Department of Transportation (MCDOT) on Friday, Oct. 8, will provide bicycles for kids and adults in need. Bikes will be collected from 7 a.m.-2 p.m., outside of the Council Office Building parking garage at the corner of East Jefferson Street and Monroe Street in Rockville.
Donated child and adult bikes will be accepted. The drive will not accept bike parts or bike helmets.
"Bikes are good exercise as well as an efficient, sustainable transportation method, but unfortunately, many of our fellow residents cannot afford to own their own bikes," said County Executive Marc Elrich. "We were unable to collect donated bikes last year due to the pandemic and our demand for bikes is great. If you have a bike that is sitting around collecting dust or if you are buying a new one, please donate your bikes to MCDOT on Friday, Oct. 8, for kids and adults in need."
For Community Service Month five years ago, MCDOT set up a drive to collect bicycles from people who were no longer using them or who did not want to make minor repairs. The bikes are refurbished and equitably distributed to applicants within Montgomery County.
"As we continue to expand Montgomery County's bicycle path network, more residents are likely to want to take advantage of them," said MCDOT Director Chris Conklin. "We are sensitive to the fact that not all residents can afford a bike and want to do all we can to expand access."


The first year of the event led to 100 bicycles being donated. In 2018, 120 bicycles were donated. At the third annual event in 2019, the number of donated bikes increased to 176. No donation event was held in 2020 due to the COVID-19 health crisis.
The donated bikes will go to the
Rockville Bike Hub
, a nonprofit organization whose volunteers refurbish the bikes. The bicycles are then distributed through
MCDOT's Bike Match Project
, Rockville's Terrific Kids program and via other charitable organizations that distribute bikes during the holidays.
Bikes for the World
is partnering with Rockville Bike Hub to work on the bikes that are beyond Rockville Bike Hub's ability to repair.
Residents, who do not have a bike to donate, can still support the program with checks to the Rockville Bike Hub. All donated funds will be used to purchase parts to repair the bikes.
For more information, visit
montgomerycountymd.gov/commute
or call 240-777-8380